DEVELOPMENT & DESIGN
EXPERTS

FOR 

DIGITAL MONITORING & DIAGNOSIS

SYSTEMS
streamwise are experts for the digital transformation in technical machines, production systems and processes
Our digital M&D systems and products base on strong experiences and know how in product development, technical optimization and analytics with digital methods and tools
We work on partner IoT platforms like Siemens Mindsphere, Microsoft Azure and GE Predix for efficient machine data access and storage
streamwise develops and tailors data analytics to your needs and creates business value from machine data
STREAMWISE
APPROACH
TO
DIGITAL MONITORING & DIAGNOSIS
DIGITAL TRANSFORMATION TODAY
Status Quo: An infinite number of sensors are integrated into machine fleets and stream data continuously. Unfortunately, most monitoring systems supervise machine operation locally without data being stored or analyzed. Although such data is a perfect basis to start machine and process digitalization today, it remains mostly unused.
Opportunity: Through digitalization the operation of remote machines becomes transparent. Recorded time-series reveal relevant operation patterns and allow comparison across the fleet. Valuable life and service cycles can be analyzed. New, prediction-based service strategies, quality monitoring devices and operation event diagnosis systems will be put in place to generate business value.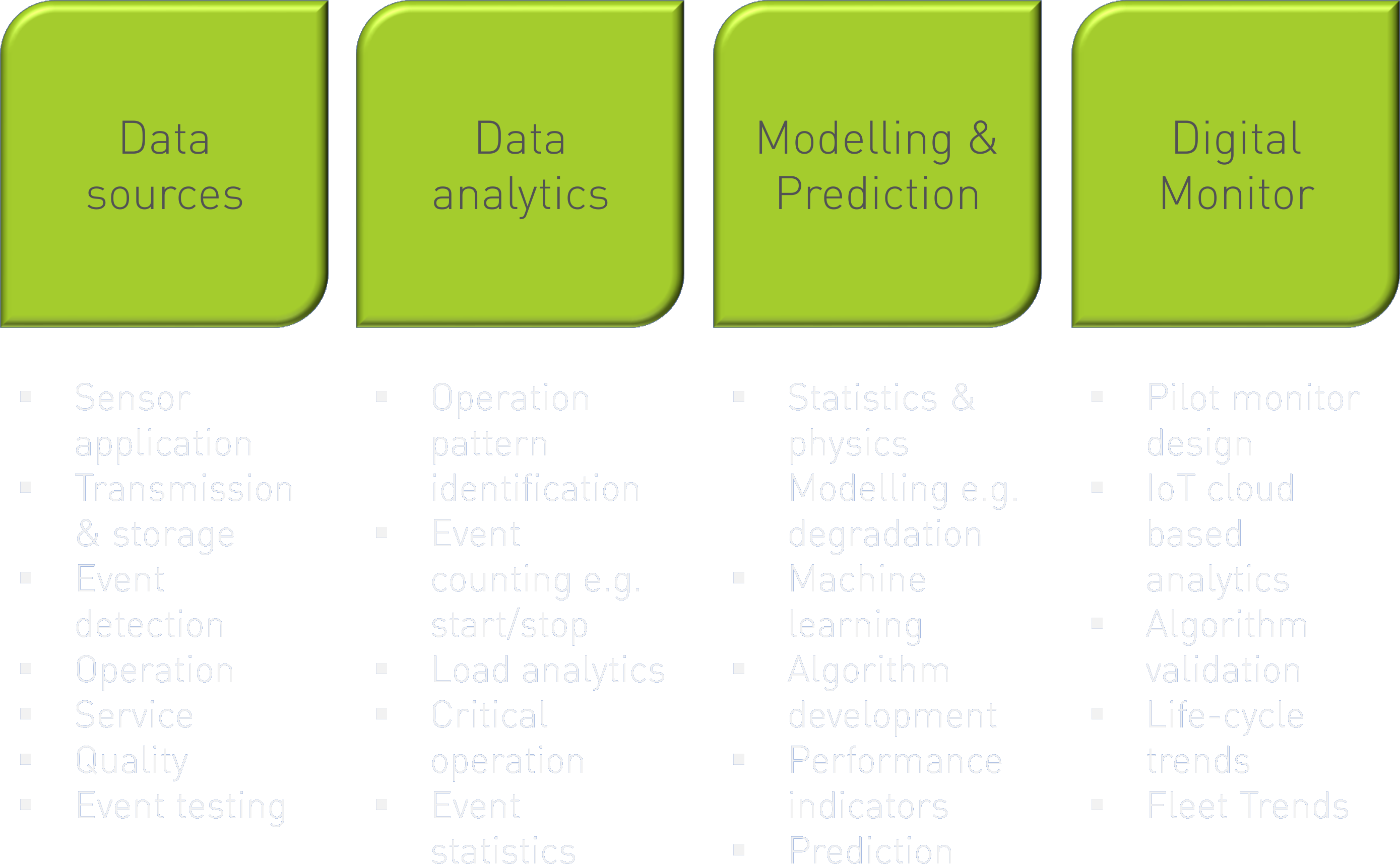 Based on our advanced digital project experience streamwise has developed a digital approach to exploit data analytics for your machines and processes.
The streamwise approach concentrates on digital life cycle analysis starting from data availability and sourcing, first statistical operation analytics, performance and prediction modelling to the final digital monitoring and diagnosis pilot for your machines and processes.
WORKSHOP
In our opportunity workshops we assess the situation and tailor the procedure to the technological ecosystem & requirements of our clients. Our analytics enable a full data-driven understanding of your systems. This offers the possibility to optimize performance, predict system behavior and detect abnormal conditions. We then move on and develop predictive, descriptive and decisive models and select the right algorithm for your specific life cycle solution. We focus on the development of tailored solutions in the areas of event classification, anomaly detection, statistical inference-based optimization, database architecture and improvement of machine-learning algorithm accuracy.
OPPORTUNITY
The correlation of machine data with fleet event data for…
manufacturing and production events

operation and quality events

maintenance and service events
defines valuable predictive services and increases quality and life-cycle performance. The comparison and learning from the machine fleet with pattern detection will generate valuable service events and improve operations.
New monitoring and diagnosis systems based on data analytics allow you to remotely supervise the machine performance for your benefit without data security issues.